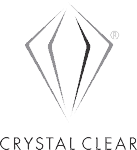 Instantly beautiful rejuvenated skin can be yours with Crystal Clear. A string of celebrity fans has generated significant public awareness and media coverage of Crystal Clear. The treatment and product range has reinforced its position as the celebrities favourite treatment!
Treats:
• Fine lines and wrinkles
• Acne scarring/blackheads/scarring
• Milia/Ingrown hairs
• Open pores/stretch marks (only if they are pink or red)
• Age spots on hands
• Pigmentation
• Hard skin on feet
How does it work?
Using a controlled method of skin resurfacing, by gently exfoliating the outer layers of the skin, while increasing new collagen and elastin formation, to visibly rejuvenate and firm the skin of the face, neck and body. Results are visible immediately, however a course of treatments is often recommended to achieve maximum effects.
Crystal Clear Microdermabrasion Facial – Use as part of your essential treatment programme. Soothing cleanse, corrective work and lifting and moisturizing, includes the special mini-lift mask. (Allow 45 minutes) £51
Crystal Clear 'Deluxe' Microdermabrasion Facial – The ultimate in skin rejuvenation, perfect for fine lines, wrinkles and dull ageing skin. Soothing cleanse, more corrective work and lifting, includes the mini-lift mask (on for 25 minutes) for even better results. Then choose either a relaxing a scalp massage or back massage accompanied with hot stones (optional). (Allow 1 hour 15 minutes) £73
Back Shine – For small pimples, blackheads and dry skin on back and arms appears instantly smoother and brighter. Great for all skin conditions. (Allow 30 minutes) £34
Cellulite and Body Contouring Treatment – To smooth and firm the contours of problem areas eg thighs, buttocks, legs, arms etc. (Allow 60 minutes) £49
Bright Eyes (Instantly provides a more rejuvenated wide awake look, perfect for those suffering from fine lines/wrinkles and poor tonicity around the eyes. (Eye pen without the surgery.) Allow 30 minutes) £34
Hand and Foot Rejuvenation Instantly polishes and buffs the skin for sparkling rejuvenated hands and feet. A more youthful appearance. (Allow 45 minutes) – £37
Recommended Crystal Clear Treatment Packages
| | |
| --- | --- |
| 'BEAUTY FLASH' 3 x 15 Crystal Clear Microdermabrasion Treatments | £50 |
| 5 x 45 minute Microdermabrasion Facials (with Mini-Lift mask) | £210 |
| 5 x Back Shine Treatments | £150 |
| 5 x Hand & Foot Rejuvenation | £150 |
| 5 x Cellulite & Body Contouring Treatments | £210 |
If you don't fancy microdermabrasion then why not try one of our Dermalogica Facials?